The Department of Agriculture is a Department under the Ministry of Natural Resources and Labour (MNR&L). The Department of Agriculture's core activity center is located in Paraquita Bay, Tortola. There are substations in Virgin Gorda and Anegada which offer limited services to the farmers and the community.
Vision
To be the premier catalyst for promoting sustainable agricultural production among all stakeholders within the agricultural sector through: training, application of appropriate technology and provision of information and services.
Mission
To enable the production of safe, high quality food and their byproducts to all consumers within the Territory.
Units within the Department
Veterinary Unit

Livestock Unit

Administration Unit

Maintenance Unit

Abattoir Unit

Crops Unit
The Department of Agriculture offers several types of service to the public. The list of services relate to:
Animal and Public Health

Livestock and Crop Management

Quarantine Measures

Abattoir Processing

Marketing

Technical Advice
The aim of the Department of Agriculture is to provide the medium to increase the agricultural production across the Territory and also to inform and educate the populace on all agricultural developments.
What's Happening Within Our Department?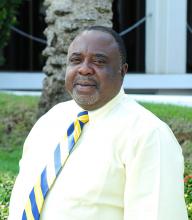 Chief Agricultural Officer
Department Contact Information
To make contact with Department of Agriculture, see below for contact information:
Department of Agriculture
Paraquita Bay,
Tortola, Virgin Islands (British) VG1120
Business Hours:
General Office (Paraquita Bay), Virgin Gorda and Anegada - 8:30 a.m. to 4:30 p.m.
Abattoir - 7:00 a.m. to 3:00 p.m.
Airport - 7:00 a.m. to 10:00 p.m.
Email Address:
agriculturebvi@gov.vg
General Office (Paraquita Bay) - 1(284) 468-6123/6124
Fax: 1(284) 468-6102
Virgin Gorda Office - 1(284) 468-6506/6507
Anegada Office - 1(284) 468-4356
Airport Office - 1(284) 468-6449
Abattoir - 1(284) 468-6127