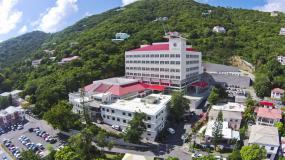 The Cabinet of the Virgin Islands has sanctioned the appointment of one new member and re-appointment of four members of the Allied Health Professionals Council established under the Medical Act, 2000.
The newly appointed member Ms. Sandi Boyce will join re-appointed members Dr. Karis Vanterpool, Mrs. Gracia Wheatley-Smith, Ms. Marilyn Maduro, and Dr. Michele Leslie. All members will hold office for three years.
The Medical Act 2000 provides for the licensing and regulation of allied health practitioners in the Territory through the establishment of an Allied Health Professionals Council. The Act also stipulates that the council shall consist of the Chief Medical Officer, ex officio; one medical practitioner along with four Allied Health Professionals all appointed by the Minister.
Deputy Secretary within the Ministry of Health and Social Development Mrs. Natalie Fahie-Smith said the role of the council is to consider and provide direction relating to applications of persons desirous of being registered as Allied Health Practitioners.
This category of health workers includes dieticians, pharmacists, chiropractors, medical laboratory technologists, opticians, physiotherapists, podiatrists, psychologists, environmental health inspectors, imaging technologists and naturopaths.
The council is also empowered to institute disciplinary proceedings against persons who fail to comply with the relevant prohibitions or requirements of the Medical Act, 2000.
The Ministry of Health and Social Development aspires to provide a caring and integrated system of health and social services that facilitates the recovery of human development and quality of life in the British Virgin Islands.
Author
Ministry or Department Associated with this News Article: