Ministry of Health & Social Development
Release Date:
Monday, 1 November 2021 - 2:36pm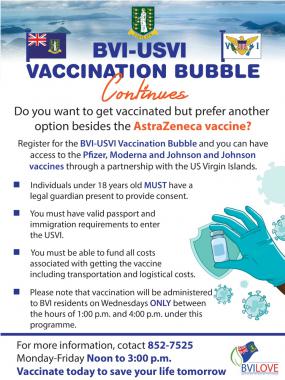 The BVI-USVI Vaccination Bubble Initiative has been revamped to accommodate the large number of persons still interested in another option besides the AstraZeneca vaccine.
Minister for Health and Social Development Honourable Carvin Malone said, "After the initiative closed off we still had a large number of persons interested in the programme." He further stated that Government continues to work with the USVI to get persons vaccinated especially eligible children who are not able to be vaccinated using the Astrazenca vaccine that is available here.
"This is yet another opportunity for families to get access to the lifesaving COVID-19 vaccination. Through this collaboration with the USVI persons will have access to the Pfizer, Moderna and Johnson & Johnson vaccines," Honourable Malone said.
Minister Malone noted however, that the dynamics of the initiative has changed and persons will now be responsible for the transportation whether it will be in a private vessel or using a water taxi. In addition, according to USVI Authorities, vaccination will only be done on Wednesdays between 1:00 p.m. and 4:00 p.m.
"We are still relaxing protocols for persons who follow the rules and remain in the bubble of the initiative. Failure to comply will result in quarantine according to the usual protocols," Minister Malone said.
In line with the new registration processes interested persons are being asked to do the following:
Visit the Ministry of Health and Social Development's website at www.bvi.gov.vg and complete the BVI-USVI Vaccination Bubble registration form. Email the form to ministryofhealth@gov.vg along with the necessary supporting documents for processing.
Applicants must have a valid passport and immigration requirements to enter the USVI
Applicants must be able to fund all costs associated with getting the vaccine including transportation and logistical costs.
Register with the U.S.V.I Department of Health by visiting www.COVID19usvi.com/vaccines to secure an appointment.
Supporting documents should also include proof of a confirmed appointment with the U.S.V.I. Department of Health.
Register with the U.S.V.I. Travel Portal for approval to enter Cruz Bay, St. John by visiting https://www.usvitravelportal.com. A rapid COVID-19 test must be administered ONE day before travel to St. John and uploaded to the portal.
An application MUST be submitted for EACH person travelling to St. John.
Travelers MUST present a Green QR Code to Governmental Officials on arrival in St. John, evidencing approval to enter the U.S.V.I.
For more information, contact 852-7525, Monday-Friday, 12:00 noon to 3:00 p.m.
The Government of the Virgin Islands is committed to improving the health and well-being of the people of the Virgin Islands.
Author