Ministry of Health & Social Development
Release Date:
Monday, 11 October 2021 - 3:22pm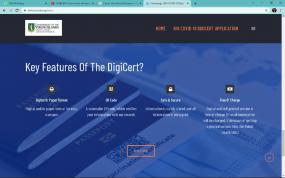 A digital platform was launched today to make verification of vaccination status easy and accessible.
The National COVID-19 digital platform BVIDigiCert was launched by the Ministry of Health and Social Development in collaboration with the Department of Information Technology and will allow persons who are partially or fully vaccinated for COVID-19 access at www.bvivaccinate.vg
Acting Chief Medical Officer, Dr. Ronald Georges said the aim of BVIDigiCert is to provide residents of the British Virgin Islands with a digital Covid-19 Vaccine certificate which will be accessible anytime or anyplace and reduce the likelihood of fraud and impersonation.
Dr. Georges said the platform is linked to an official Government server making it accessible and verifiable using a barcode or QR code.
"Starting today, persons requiring vaccination authorisation letters for travel can use the website to submit their applications. The applicant will have to ensure that they have their passport and vaccination card handy to complete the registration form," Dr. Georges stated.
Dr. Georges further added, "We wanted to streamline the process and make it easier for persons who need authorisation letters. To access the system, persons will have to create a user account and answer vital questions to complete the process."
The service is free and certificates will be valid for six months and can be renewed using the same process thereafter.
The Government of the Virgin Islands is committed to improving the health of the people of the Virgin Islands.
Author