Office of the Deputy Governor
Release Date:
Friday, 9 September 2022 - 8:47pm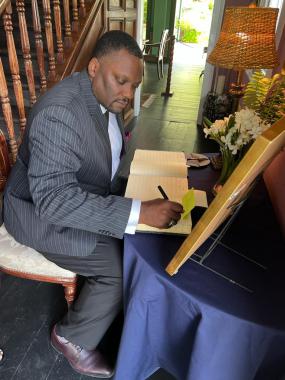 Deputy Governor, Mr. David Archer, Jr. has signed the condolence book for Her Majesty Queen Elizabeth II.
The Deputy Governor encourages members of the public, especially public officers, to join him in offering condolences by signing the book themselves.
"This is a historic period in which we should prioritise the celebration of Her Majesty's life. I urge the people of the Virgin Islands, and within the public service, to personally take part by signing the book" he said.
The book is located at the Old Government House Museum and is open to the public from 10:00 a.m. until 3:00 p.m. on Saturday 10 September and each working day until the day after Her Majesty's funeral.
Condolence books are also available on the Sister Islands. Those wishing to sign the books on the Sister Islands should contact their District Officer for details.
A virtual condolence book can be signed online at www.royal.uk
(Photo credit: GIS)
Author