Ministry of Natural Resources and Labour
Release Date:
Monday, 9 November 2020 - 12:48pm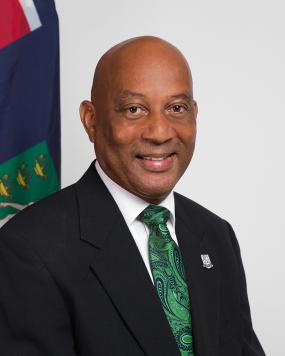 The Government will introduce Environmental Management and Climate Resilience Act during the Third Session of the Fourth House of Assembly to provide for the sound and sustainable management of natural resources in the Territory.
On Thursday, November 5, His Excellency the Governor Augustus J.U. Jaspert in delivering the Speech from the Throne outlining the Government of the Virgin Island's Legislative Agenda explained that the act focuses on establishing the legal framework for the improved management of the environment and the conservation of biodiversity. He added that it will help to establish the institutional framework to manage the causes of and impacts from climate change.
In an interview with the Department of Information and Public Relations following the speech, the Minister of Natural Resources, Labour and Immigration Honourable Vincent Wheatley spoke about the legislation underway from his Ministry as presented in the Speech from the Throne.
Honourable Wheatley said, "We have recognised a long time ago that for certain things to happen; there must be the legislative underpinning to do so. A lot of things that persons may have wanted to see in the past simply couldn't happen because the framework wasn't there to facilitate."
Minister Wheatley went on to speak about the two Acts and how they are about protecting and preserving the environment of the Virgin Islands. He also spoke on utilising the 200 nautical miles surrounding the BVI to boost our economy.
Honourable Wheatley said, "We have to ensure going forward that we can get more from our marine environment. We have 200 nautical miles of water out there, we currently use 15 to 20 miles of it, so we still have 180 miles that we're still not really using and benefitting from. These legislations are going to help us benefit more from our natural resources."
The Speech from the Throne is delivered at the beginning of each new session of the House of Assembly. The Speech from the Throne is prepared within the Premier's Office in consultation with Ministries. The Speech is then deliberated and approved by the elected Government of the Virgin Islands. Subsequently, the Speech is delivered to the Governor. During the First Sitting of the House Of Assembly, the Premier and Minister of Finance, then moves a motion to invite the Governor to read the Speech from the Throne. The Government's Legislative Agenda is monitored by the Premier's Office to ensure that it moves forward with fortitude and determination.
###
NOTES TO EDITORS
Photo 1: Official Photo of Minister for Natural Resources, Labour and Immigration Honourable Vincent Wheatley (Photo credit: GIS)
Author