Governor's Group
Release Date:
Monday, 11 June 2018 - 5:35pm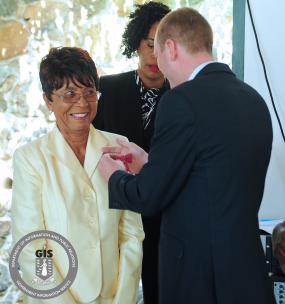 Former educator Mrs. H. Lynden Smith is the Territory's newest recipient of the Member of the Order of the British Empire (MBE) award from Her Majesty the Queen.
His Excellency the Governor, Mr. Augustus J. U. Jaspert presided over his first investiture ceremony and presented the insignia and the Royal Warrant to Mrs. Smith in the presence of family, friends, past honorees and Government officials.
The Governor said it was a great pleasure and privilege to bestow the honour on Mrs. Smith and spoke of her unfailing determination and enthusiasm coupled with her infectious personality. He shared that Teacher Lynden, as she is affectionately called, has touched the lives of innumerable young people in the Virgin Islands.
"Many people have been on the receiving end and have learned so much from her. Some of her former students are here also to witness this special day. I am sure that you all can attest to her being well deserving of this award and to the contributions she has made in the Territory and your lives," Governor Jaspert said.
He added, "Teacher Lynden's compassion for others, her instinctive sense of what needs to be done and her willingness to give of herself to achieve a better world, serve to mark her out as someone who represents the very best of this community. Her contribution over 62 plus years has been enormous and she is a real credit to the British Virgin Islands."
Teacher Lynden's passion for reading was ignited as a little girl when her mother, Alice Frett-Turnbull taught her the ABC's and how to read. She and her 10 siblings were treated on a regular basis to their father Alvanley Frett's reading of the most beautiful and interesting stories from a wealth of books.
Mrs. Smith said in her response that she saw the day as a significant point in her journey of life. A journey she said began at her mother' knees, her father's lap and the old rocking chair and surrounded by the invaluable books which filled the house.
Mrs. Smith ascribed the day's glory to God. "He has a plan for every one of us and I strongly feel that this was in his plan for me." She added, "Today is a moment that I never expected, nor did I reach it on my own."
Teacher Lynden's contributions in education are tremendous and wide ranging, from teaching early education, to Principal, and then to Education Officer for Reading. Mrs. Smith also had the opportunity to serve the entire school population working from the Department of Education and Culture.
Mrs. Smith made a request in March 1992 for a special period to be set aside for reading. This was granted and the first 'Reading is Fun Week' is now being observed annually. She thanked her supporters, her family and friends and everyone who made an impact in her life as she could not have done it alone.
The Queen's honours system recognises individuals who have made achievements in public life, committed themselves to serving and helping their community, or have been outstanding at what they do and have stood out as examples to other people.
The Order of the British Empire recognises distinguished service to the arts and sciences, public service and work with charitable and welfare organisations of all kinds. It was created nearly 100 years ago by His Majesty King George V who wanted a formal recognition for the large numbers of people in the British Isles and other parts of the Empire who were serving, either as combatants, or as civilians during the First World War.
# # #
NOTES TO EDITORS
Audio Clip attached – Mrs. H. Lynden Smith, MBE
Photograph #1 - Excellency the Governor, Mr. Augustus J. U. Jaspert presiding over his first investiture ceremony, presented the insignia and the Royal Warrant to Mrs. H. Lynden Smith. MBE in a gathering of family, friends and past honorees.
Photograph #2 - Queen's Honouree, Mr. H. Lynden Smith, MBE is pictured with her sponsors Dr. Charles Wheatley and former Deputy Governor Mrs. Rosalie Adams
https://bvi.gov.vg/sites/default/files/h_lynden_smith_receives_mbe_award.mp3
Author