Office of the Governor
Release Date:
Friday, 12 August 2022 - 10:46am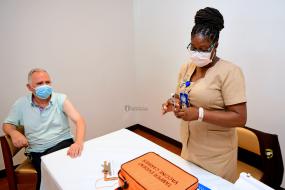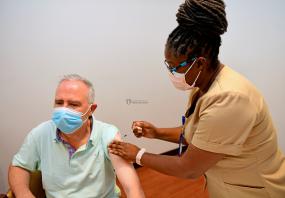 His Excellency, Governor John Rankin, is featured as he received his second booster at the D. Orlando Smith Hospital.
The Governor said he was grateful to be able to get his second booster, which is his fourth COVID-19 injection in total. The Governor said the UK has so far made nine deliveries of vaccines to the VI, with the current shipment of the adult Pfizer vaccine due to expire at the end of September. "While the impact of COVID and numbers of cases appears to have reduced, vaccines remain the best way to protect our community and freedoms, with previous restrictions now largely lifted. I urge those of you who can to vaccinate, even if you have not yet had your first dose. It is not too late," Governor Rankin added.
A second booster is available to those considered vulnerable or over 65 years old. Persons can call 494-3497 to book their vaccination appointments at their community clinics.
Author