Ministry of Communications and Works
BVI Electricity Corporation
Release Date:
Thursday, 25 April 2019 - 4:30pm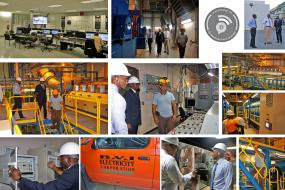 Minister for Transportation, Works and Utilities Honourable Kye Rymer recently visited the BVI Electricity Corporation (BVIEC) Power Plant at Pockwood Pond.
Honourable Rymer was accompanied by Acting Permanent Secretary Mr. Jeremy Hodge. General Manager of BVIEC Mr. Leroy Abraham welcomed the minister to the facility and gave him an update on the functionality of the plant.
The visit was part of a series by the minister to various departments under his ministry's portfolio.
(Photo Credit: GIS/Giovanni Herbert)
Author