Premier's Office
BVI Ports Authority Ltd
Release Date:
Wednesday, 26 August 2020 - 2:42pm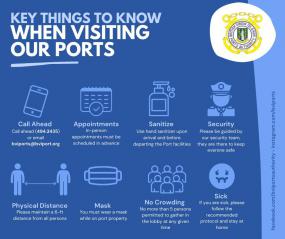 The British Virgin Islands Ports Authority (BVIPA) would like to inform the public of the implementation of health and safety protocols at our cargo ports. In keeping with the Government of the Virgin Islands' COVID-19 protocols and with the safety of our team, customers and stakeholders in mind, effective August 26th 2020 the following procedures will be employed.
 You will be required to call ahead to schedule an in-person appointment.
 When visiting the Port Purcell facility there will be a limit of five (5) people allowed in the lobby at one time: three (3) by the cashier and two (2) by Her Majesty's Customs.
 You will be required to correctly wear a face mask at all times while on port property.
 Located at the pedestrian gate there is a sanitization station that you will be required to use before entry and during departure. Sanitization and washing stations are also located for you to use throughout the facility.
 Maintaining a physical distance of six (6) feet from all persons for social distancing will need to be observed.
The British Virgin Islands Ports Authority in an effort to minimize face-to-face contact will be providing customers with the ability to make payments via email to
payments@bviports.org. All submissions should include the following:
1. The completed BVIPA credit card payment authorization form, now available online at bviports.org.
2. A legible, scanned, approved and paid Treasury T-12 from Her Majesty's Customs.
a. The Customs Automated Processing System (CAPS) Unit for Her Majesty's Customs can be contacted via telephone at 468-9689/468-9692 or via email at caps@gov.vg for assistance.
3. Invoice for goods
4. Storage/Forklift charges (where necessary)
These documents need to be provided to allow the BVIPA to accept payment and be able to provide a receipt via email.
For those persons who do not wish to send their credit card information, you must provide a telephone contact so that you can be contacted for the payment information to complete the processing of the transaction via telephone or you would be required to obtain an appointment to come to the office.