Ministry of Natural Resources and Labour
Release Date:
Friday, 3 February 2023 - 11:53am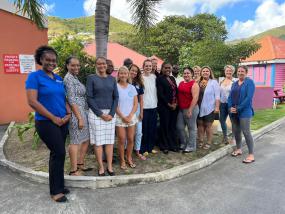 Ms. Amy Ridgeway and Dr Eleonora Manca of the Joint Nature Conservation Committee (JNCC) are featured with participants at day one of a two-day Marine habitat sensitivity and assessment workshop on Wednesday, February 1. The session will build capacity within the Public Service as it relates to identifying key pressures for the Virgin Islands and develop sensitivity assessments and reviews throughout the Territory. Representatives from the Ministry of Natural Resources and Labour, the Ministry of Education, Culture, Youth Affairs and Sports, National Parks Trust, the Department of Agriculture and Fisheries, Hamilton Lavity Stout Community College (HLSCC), and the non-governmental organisation Beyond the Reef are attending the two-day session.
Author