Ministry of Natural Resources, Labour and Immigration
Release Date:
Friday, 24 May 2019 - 5:02pm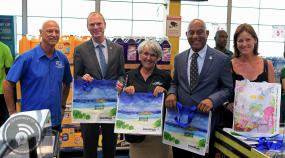 Customers of Riteway supermarket in Pasea Estate were urged to reduce the use of single use plastics during a visit to the store by His Excellency the Governor Augustus Jaspert and Minister for Natural Resources, Honourable Vincent Wheatley.
The Governor and Minister Wheatley's visit to the supermarket on Friday, May 24 was to show their support to businesses and community initiatives which aim to reduce the use of single use plastics. They also assisted customers with the bagging of their groceries in reusable bags.
Governor Jaspert said, "Everyone can make choices to improve our environment. Single use plastics pose a very real problem to our islands and these small solutions can have great impact in safeguarding our oceans and reducing waste in our landfills. I am delighted to support this initiative and further approaches to help protect and nurture the environment in our beautiful Virgin Islands."
Honourable Wheatley stated that the Government of the Virgin Islands continues to work towards creating modern practices that improve the Territory's natural resources through green solutions, environmental research and improved waste management.
Honourable Wheatley added, "We have to be more mindful of our usage of single use plastics. If we use these reusable bags then we can make a significant difference in our carbon footprint in a short space of time. Small changes like this will have a trickle-down effect and contribute to the betterment of the Territory in various aspects."
The minister made reference to the observation of World Turtle Day on May 23 and pointed out that that when there is a reduction in the use of single use plastics, there will be fewer plastics for turtles to ingest, which will have a positive effect on marine life.
The bags supplied to the customers were provided by IslandBags a local company that supplies reusable shopping bags made from low density polyethylene (recycled plastic bottles) that feature BVI artworks.
The Foreign and Commonwealth Office (FCO) supported the supply of the bags in a project which supports environmentally friendly entrepreneurship and promotes community awareness of single use plastics.
Attached:
Photo 1: His Excellency the Governor Augustus Jaspert; Minister for Natural Resources, Honourable Vincent Wheatley; Manager of Riteway Pasea Estate and Staff of IslandBags
Photo 2: His Excellency the Governor Augustus Jaspert assisting customers with their groceries
Photo 3: Minister for Natural Resources, Honourable Vincent Wheatley assisting customers with their groceries
(Photo credit: GIS/ Ronnielle Frazer)
Author