Ministry of Education, Culture, Youth Affairs and Sports
Department of Agriculture and Fisheries
Release Date:
Tuesday, 19 October 2021 - 11:43am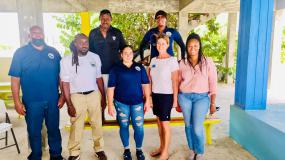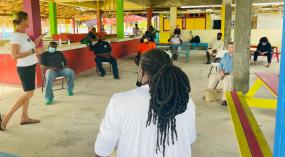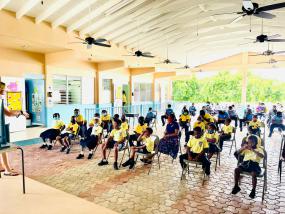 The Sustaining Turtles, Environment, Economies, and Livelihoods (STEEL) Project team visited Anegada on Wednesday, October 13 to educate stakeholders and students about the project and importance of sea turtles in the Virgin Islands.
Stakeholders and students were also updated on the increased incidence of Fibropapillomatosis (FP), a disease in turtles that results in the growth of external tumours that can grow to hamper a turtle's ability to swim and feed effectively. Stakeholders also learned about the overall change in species composition within the Territory over the past 20 years.
The team was comprised of officers from the Department of Agriculture and Fisheries and representatives from the Association of Reef Keepers (ARK). Other members of the project team but who could not be present, are the Marine Conservation Society (MCS) and the University of Exeter. They will visit in November to assist with further community engagement throughout the Territory.
Currently, the STEEL project team conducts weekly research analysis to determine the overall population abundance and distribution of sea turtles in the Territory, their health and the health of their habitats. They do this by monitoring nesting and hatchling activity, capturing, tagging, taking measurements and assessing the general health of each turtle.
Persons can learn more about the project and view weekly updates on sea turtles by visiting their Facebook page using the handle @GOVIDOAF or @ARKBVI.
To view the original presentation about the project, visit the Government's Facebook page using the handle @BVIGovernment or click the link: https://www.facebook.com/BVIGovernment/videos/3524777094234584/
Notes:
Photo of STEEL Team in Anegada
Photo of team members with students on Anegada
Photo of team members with stakeholders on Anegada
Author