Ministry of Health & Social Development Statutory Boards & Associated Bodies
Release Date:
Wednesday, 12 January 2022 - 4:43pm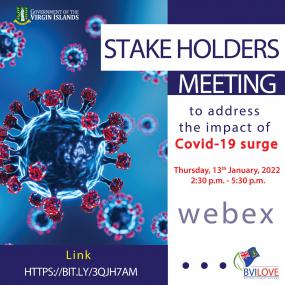 The Ministry of Health and Social Development and the Health Emergency Operations Center – Unified Command will be hosting a virtual stakeholders meeting tomorrow, Thursday, January 13 from 2:30 p.m. to 5:30 p.m.
The purpose of the meeting is to inform stakeholders of the current and emerging COVID-19 surge and its impact Territory wide.
Minister for Health and Social Development, Honourable Carvin Malone said "We want to engage with the key sectors to give them an update on what is happening with regards to COVID-19 while providing a forum for them to share their concerns and suggestions."
The meeting will also provide an opportunity for participants to be updated and informed of existing and proposed health protocols and economic measures being considered by Cabinet.
"We want to make sure that we give this opportunity to stakeholders to have an input in the way we move forward with the management of the COVID-19 pandemic," Honourable Malone stated.
The event will be accessible using the link https://bvigov.webex.com/bvigov/j.php?MTID=mda49d4ddc74eb2db51be47263bda6297
Persons with a vested interest are invited to participate including but not limited to stakeholders such as members of the House of Assembly, the education sector, church organisations, clinicians, business, hospitality, marine, telecommunications, hoteliers, restaurateurs, legal, financial, supermarkets, security, entertainment, small business, clubs, bars and construction stakeholders.
The Government of the Virgin Islands is committed to improving the health and well-being of the people of the Territory.
Author