Statement by Honourable Vincent Wheatley, Minister for Natural Resources, Labour and Immigration
uring the Sixth Sitting of the First Session of the Fourth House of Assembly of the Virgin Islands
on Projects
Wednesday 31st July, 2019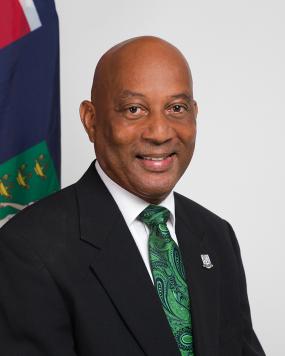 Mr. Speaker, the devastation caused by hurricanes in 1989 brought to light the pressing need to develop proper marine hurricane shelters as most, if not all, of the boats contributed directly to the Territory's economy. Therefore, in 1997, the Sea Cows Bay Harbour was developed for use as a marine hurricane shelter. Over the years, a large amount of material has been deposited into the harbour by ghuts, thereby compromising its use as a marine hurricane shelter. Mr. Speaker, as such, the Ministry of Natural Resources, Labour and Immigration has embarked on the dredging of the Sea Cows Bay Harbour. Additionally, plans are afoot for the installation of a hurricane mooring system and the removal of the derelict vessels before the beginning of the fourth quarter.
Mr. Speaker, the reinstallation of the moorings system at Paraquita Bay Lagoon has been successfully completed by the Government of the Virgin Islands and the Marine Association of the BVI. In collaboration with the National Parks Trust, the Ministry is currently in the process of finalizing a Memorandum of Understanding with the Marine Association relative to the use and management of the Paraquita Bay Lagoon Marine Shelter.
Mr. Speaker, beaches are known as one of the most favoured tourism products of the Virgin Islands and therefore provision of basic facilities on beaches is of paramount importance. As such, restroom facilities will be constructed on the beaches at Brewers Bay and Long Bay, Beef Island this year. Construction of the first facility is scheduled to commence in August at Long Bay, Beef Island. Also Mr. Speaker, I am pleased to report that the swim area/no anchor markers have been re-installed at Cane Garden Bay Beach to mark the perimeter of the swim area and more importantly, to safeguard beach users.
Mr. Speaker, the Red Bay Fisherman's Wharf plays a vital role in the Territory's fishing industry as it serves as a fishing hub for the eastern end of Tortola. In 2015, a concrete bulkhead and boat ramp were constructed at Red Bay. Based on the funds allocated in the 2019 Budget, we are now positioned to proceed with the construction of the main jetty, excluding the T-head and fingers. The Ministry has engaged in discussions with the contractor and a site visit will be held early next month to agree on the exact position and angle of the jetty. Thereafter, it is anticipated that precast will commence before year end.
Author
Ministry or Department Associated with this News Article: