Ministry of Health & Social Development
BVI Health Services Authority
Release Date:
Friday, 30 November 2018 - 4:23pm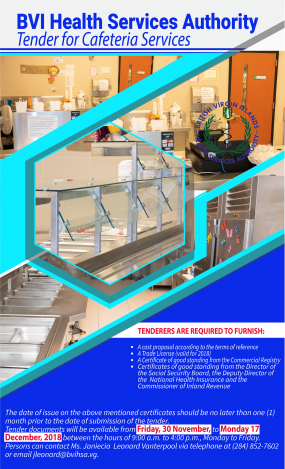 Interested qualified entities are invited to submit competitive sealed proposals to provide Cafeteria Services at the Peebles Hospital.
Tenderers are required to furnish a cost proposal according to the terms of reference, a Trade Licence (valid for 2018), a certificate of good standing from the Commercial Registry and certificates of good standing from the Director of the Social Security Board, the Deputy Director of the National Health Insurance and the Commissioner of Inland Revenue.
The date of issue on the above mentioned certificates should be no later than one month prior to the date of submission of the tender. A Minimum of three (3) written references of food services provided is also required.
Tender documents will be available from Friday, November 30 to Monday December 17 between the hours of 9.00 a.m. to 4.00 p.m., Monday to Friday. Persons can also contact Ms. Janiecia Leonard Vanterpool via telephone at (284) 852-7602 or email jleonard@bvihsa.vg.
A non-refundable fee of $50.00 is payable by cash, banker cashier's cheque or credit card to the British Virgin Islands Health Services Authority (BVIHSA) for the Tender documents. The documents, once submitted, will remain the property of the BVIHSA.
Tenderers should submit one (1) original and two (2) copies of the tender. The original should be placed in a sealed envelope and marked "ORIGINAL" and the additional copies placed in another sealed envelope and marked "COPIES".
Both envelopes must be placed in an outer envelope and marked "TENDER FOR THE SUPPLY OF CAFETERIA SERVICES TO THE BRITISH VIRGIN ISLANDS HEALTH SERVICES AUTHORITY". The outer envelope should be addressed to: Mrs. Ayana Liburd, Chairperson, British Virgin Islands Health Services Authority 32 Main Street, Road Town, Tortola, British Virgin Islands VG1110.
BVI Health Services Authority is committed to delivering excellent, compassionate, client-centered healthcare across the Territory.
https://bvi.gov.vg/sites/default/files/474_-_tender_for_cafeteria_services.mp3
Author