Ministry of Natural Resources and Labour
Release Date:
Wednesday, 8 June 2022 - 4:36pm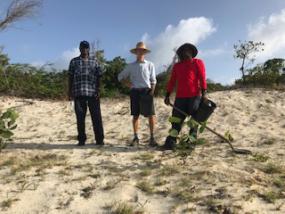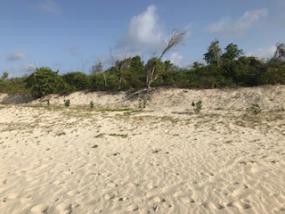 World Environment Day was observed with a tree planting exercise of Sea Grape seedlings at the Long Bay Beach Beef Island.
Representatives from the Ministry of Natural Resources and Labour and Minnie's Plants and Landscaping planted the Sea Grape seedlings grown in nursery conditions as part of a reforestation exercise on June 5.
Minister for Natural Resources and Labour Honourable Melvin M. Turnbull applauded the tree planting initiative and stressed the need to conserve the natural, precious assets of the Virgin Islands that comprise of animals, plants and other species.
Honourable Turnbull added, "Climate change is a global issue that affects areas that are located in tropical zones of the world the most. The state of our environment is falling day by day due to pollution and global warming. We must celebrate environment-friendly developments for a better future."
Meanwhile, Assistant Secretary in the ministry, Ms. Lynda Varlack said the tree planting exercise would positively affect Long Bay Beef Island.
"We are very pleased to have Minnie's Plants and Landscaping partnering with us on this activity," Ms Varlack said adding, "Not only have they graciously agreed to donate six 3-gallon sized trees to this effort, but they were on site to facilitate the planting of the trees so the trees can have the best chance of survival."
The Assistant Secretary further stated, "Coincidentally, June 5 each year is celebrated as World Environment Day under the United Nations Environment Programme (UNEP), and tree planting is a great activity to observe the day. If you can, please try to engage in activities that are good for the environment in your own little corner of our beautiful treasure islands."
The tree planting exercise will serve as a test to observe how the Sea Grape seedlings will adjust in the near future to the change of environment. They will be regularly watered and monitored for a period of three months by Beach Wardens to ensure that they successfully acclimate to their new environment.
The Ministry of Natural Resources and Labour continues to effectively manage and administer the natural resources of the Territory in a manner that ensures long-term sustainability.
NOTES:
Photo 1 (Left to Right): Assistant Environment Officer Ministry of Natural Resources & Labour Mr. Austin Freeman, Co-owner of Minnie's Plants and Landscaping Mr. Steven Steer, Staff Member of Minnie's Plants and Landscaping Mr. Denesh Ramasay
Photo 2: Photo of Sea Grape Seedlings and representatives from the Ministry of Natural Resources and Labour and Minnie's Plants and Landscaping.
(Photo credit: Provided/Lynda Varlack)
Author