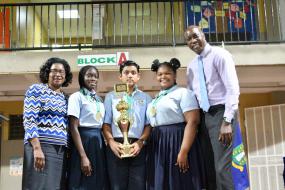 Bregado Flax Educational Centre students are the winners of the 2018 Inter Secondary School debate, after a well fought battle against the St. George's Secondary School.
The final competition was held on Thursday, April 19 at the Althea Scatliffe Primary School Court Yard, where parents, teachers, fellow students and well-wishers came out in support of their favourite school.
Both teams debated the moot "Privatisation of the public sector will serve the public interest of the Virgin Islands" before a panel of judges comprised of professionals from different backgrounds within the private and public sectors.
Minister for Education and Culture, Honourable Myron V. Walwyn said the entire debate series was an excellent one, and commended the organisers, students, and teachers for a job well done.
Minister Walwyn said, "Although we had some challenging time during this school year, we still wanted to keep the debates going, because through events like these we are able to foster a higher level of thinking among our students. This is why we were deliberate in the topics that we chose, we wanted them to be current and timely, so that the students could think and confront these issues as members of this community."
The debate series began on Wednesday, March 14 also saw students from the Elmore Stoutt High School, the Virgin Islands Technical School, and the Claudia Creque Educational Centre debating moots including:
A parental escort policy should be enforced to restrict students under 18 from patronising public establishments during school hours.
Modern day natural disasters are a direct result of man's unsustainable use of the environment.
Alternative sources of energy can meet the energy demands of the Virgin Islands.
The Inter Secondary School Debates was created to develop the skills of students to communicate effectively, argue their points, and also give them the opportunity to interact with other students as they develop new friendships.
Audio
Download:

126_-_hon_mvw_debate_finals_2018.mp3
Author
Ministry or Department Associated with this News Article: