Premier's Office
BVI London Office
Release Date:
Tuesday, 17 May 2022 - 10:55am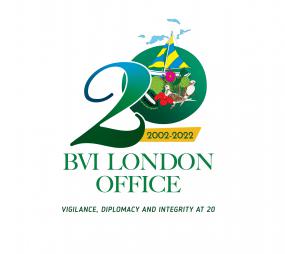 The British Virgin Islands London Office (BVI London Office) is delighted to present the 20th anniversary logo to the public as the office celebrates 20 years since its establishment in 2002.
The visual captures the significance of the occasion to the advancement of the Territory and its people while highlighting BVI pride, culture, and the natural environment.
Mr. Jhon Julio Samuel of Apex-BVI was selected to design the logo in conjunction with the BVI London Office team after a call for graphic designers was launched in the territory and amongst the diaspora.
The Office is planning a series of activities throughout the year under the theme "Vigilance, Diplomacy and Integrity at 20". The office will publish details of the 20-year anniversary programme which is expected to include events at BVI House and engagement with the BVI public in the territory and abroad.
The BVI London Office is located at BVI House, 15 Upper Grosvenor Street, Westminster, London, W1K 7PJ.