Ministry of Natural Resources, Labour and Immigration
Department of Conservation and Fisheries
Release Date:
Thursday, 18 May 2017 - 3:21pm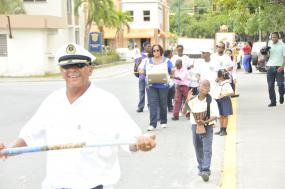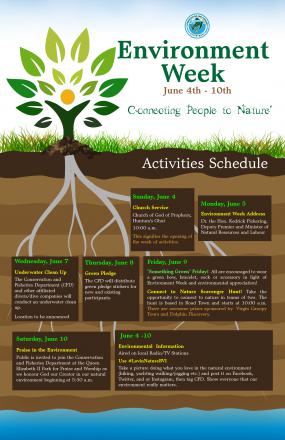 People and their relationship to the environment will be in focus when the Territory observes Environment Week 2017.
Environmental Education Officer, Mrs. Cynara Benjamin-Duncan said the week will be observed in June and that this year's theme is 'Connecting People to Nature'. She said awareness programmes, activities and events for all ages are scheduled throughout the week.
Mrs. Benjamin-Duncan said, "Activities include a church service, the green pledge star acknowledgement and distribution, an adult scavenger hunt and much more. We hope that through participation, environment issues are highlighted during this week and that everyone finds someway to get involved."
The green pledge star distribution activity is a continuation of an initiative where companies and departments who have pledged to reduce their carbon foot print can gain official acknowledgment for their efforts in conservation over the year.
The department is also placing emphasis on the theme through social media and the use of the hash tag #LovinNatureBVI. With the hash tag, persons are encouraged to take photos while engaged in an activity in the natural environment (for example; jogging, walking) and post on Facebook, Twitter and or Instagram. Persons can also tag the Conservation and Fisheries Department.
The week of activities will run from June 4 to 10, beginning with a church service on June 4, at 10:00 a.m. at the Church of God of Prophecy, Huntum's Ghut, Tortola, and an underwater clean-up at Long Bay, Beef Island on June 7. The green pledge star distribution will be done on June 8 and Connect to Nature – scavenger hunt on Friday, June 9.
Persons also are encouraged to tune in and listen to ZBVI 780 AM for the State of the Environment Address to be delivered by Deputy Premier and Minister for Natural Resources and Labour, Dr. the Honourable Kedrick Pickering on Monday June 5, World Environment Day.The address will also be available on Facebook and YouTube at username @BVIGovernment.
For more information please contact the Conservation and Fisheries Department at 468-2700.
Photos Attached:
1 of 2 - Scene from Environment Month 2015(Photo Credit: GIS)
2 of 2: Environment Week Schedule of Activities(Design Credit:GIS)
Author