Ministry of Education, Youth Affairs and Sports
Release Date:
Tuesday, 14 May 2019 - 4:07pm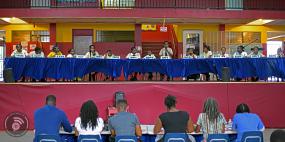 Six Primary Schools have advanced to the finals of the Inter Primary School Spelling Bee Competition 2019. They include Agape Total Life Academy, Alexandrina Maduro Primary School, Althea Scatliffe Primary School, Seventh Day Adventist Primary School, Ivan Dawson Primary School and First Impressions Primary Division. The objective of the spelling bee is to promote students' knowledge of proper word usage and pronunciation, to expand students' vocabulary and encourage reading among other benefits.
Author